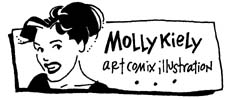 Molly Kiely
w w w . m o l l y k i e l y . c o m
Molly Kiely is an artist and cartoonist. Since 1991, she has written and illustrated a dozen or so comics including the Diary of a Dominatrix and Saucy Little Tart series and the graphic novels Tecopa Jane and That Kind of Girl.

She humourously explores themes of freedom of sexual expression and voluntary isolation from mainstream society. Fittingly, she spends most of her free time exploring the Mojave and Sonoran deserts by herself or holed up in her 1950 Roadmaster trailer northwest of Tucson, Arizona. She loves getting dressed up and has an overwhelming collection of vintage cookbooks.

And...she accepts PayPal! What a gal.