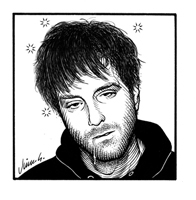 Eric Reynolds Portrait
by Jim Blanchard, ©2002
Eric Reynolds

Cartoonist/occasional hack Eric Reynolds's illustrations have appeared in The Stranger, The Comics Journal, The New York Times, The New York Press, and elsewhere. He occasionally 'inks' (to use industry lingo) Peter Bagge's work. He draws comics once in awhile. He edits the Complete Crumb Comics, Angry Youth Comics and Dirty Stories, among others, for Fantagraphics Books and also serves as the company's official shill, doing publicity, sorting mail, taking out garbage, etc.

Most of the art available is commerical illustration work for various papers and magazines, as well as a few Peter Bagge originals inked by Reynolds and two 7-inch vinyl records (cheap) and one minicomic (cheaper). For more information on any particular piece, email Mr. Reynolds.